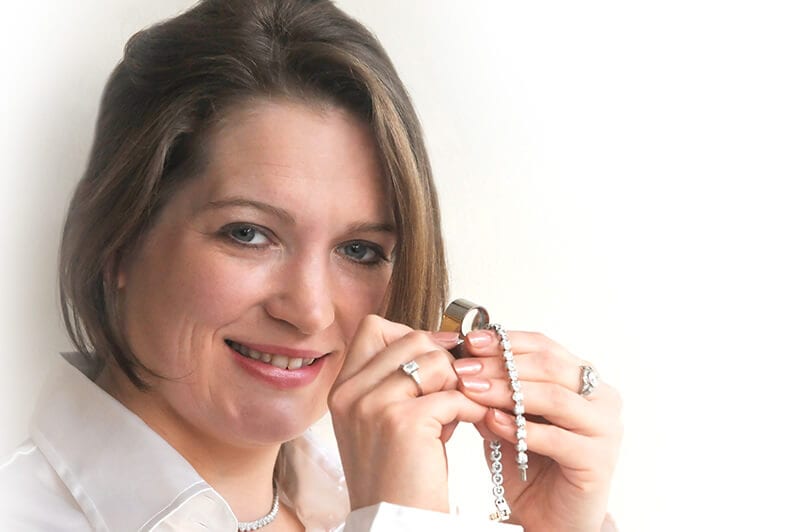 Susan has an established career as a lecturer in the history of jewellery design and is a registered lecturer for The Arts Society (formerly The National Association of Decorative and Fine Arts Societies (NADFAS)). Susan shares her wealth of knowledge through a variety of Courses, lectures and jewellery lunches. These courses are designed to be educational but also fun. The courses are run at various venues throughout the UK.
Susan also works closely with the Goldsmiths' Company running courses on fakes and forgeries in jewellery and silver.
These events attract both private and corporate clients who are interested in the history of jewellery or who are looking for an alternative way to entertain friends and clients. These events can be arranged for charitable organisations or simply for your own personal enjoyment. Subjects include "Designed for Wearing" – Jewellery in the C20th; "Cocktails and the Fashion Conscious" – 1940's & 50's Jewellery and "Romance with Nature" – the love and sentiment portrayed in Victorian Jewellery.
To obtain a quote for your specific requirements please complete our contact form.
Half Day
A lecture on either the history of jewellery or on gemstones chosen by you or your organiser. After the lecture there will be a handling session of jewellery relating to the subject. The morning will end with a complimentary glass of champagne.
Coffee and tea will be served throughout the morning.
Full Day
Two lectures on the history of jewellery from the period chosen. There will also be a jewellery handling session with an opportunity to use gemmological equipment to understand how jewellery specialists identify gemstones.  The day ends with a complimentary glass of champagne.
Tea and coffee are available throughout the day and lunch can be organised with our catering partners.
Anyone attending the course is invited to bring their jewellery along to find out information about the history or even value of the items.
Popular subjects include:
Designing for Wearing – Jewellery in the C20th
New Age Creations – Inspired Jewellery Design of the 1960's to 2000
Cocktails and the Fashion Conscious – 1940's & 50's Jewellery
The Garland Style – Jewellery in the Edwardian Period
Romance with Nature – the love and sentiment potrayed in Victorian Jewellery
A Cut Above the Rest – Diamonds
The Romance of Pearls