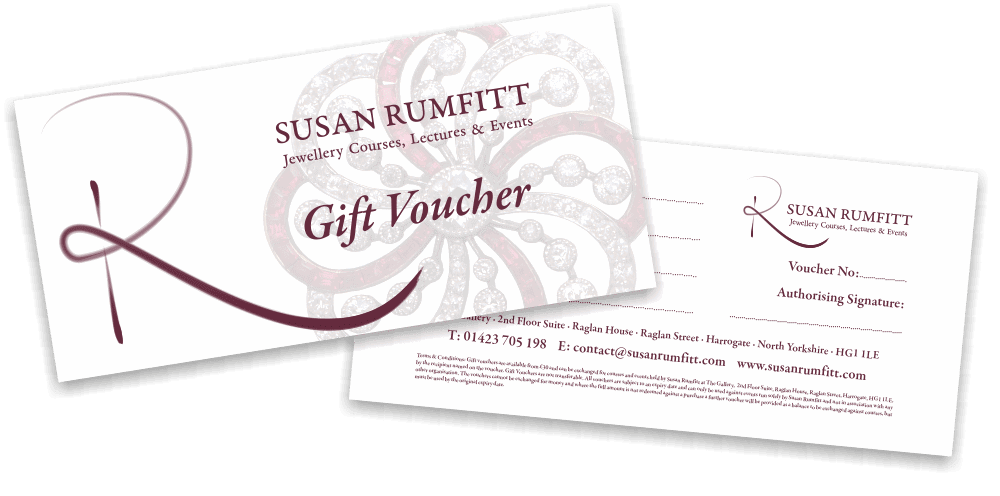 CURRENT GALLERY LECTURES
BOOKING – ESSENTIAL
Contact Maggie Hall at The Gallery on 01423 705 198 or send an enquiry using our contact form
The Gallery Lectures are a fun and relaxing way to share Susan's knowledge on the history of jewellery. The Gallery opens and 10.30am and coffee is served from 10.45 until 11.15 when Susan will present the lecture for an hour and then lunch is served. The Gallery is open for you to see the current jewellery collections and chat with Susan about valuations or the redesigning or repairing of any jewellery you may have or a particular item you may be looking for.
Time 10.45am – 2pm   Price £38/person
including coffee on arrival and a light sandwich lunch with a complimentary glass of Prosecco or cold soft drink
 The Gallery can be hired for your own private event – ask Susan or Maggie for more details
---
JANUARY
'Welcome to the High Life' – The jewels of Marjorie Merriweather Post
Friday 11th, Saturday 26th, or Thursday 31st
Marjorie Merriweather Post is well known as one of the most important collectors of Cartier Jewellery. This presentation will look further into her collection and see how she loved all styles, spanning centuries of design. Her collection has been described as being on the same level of collecting as Elizabeth Taylor and the Duchess of Windsor. If so, then this lecture is definitely one not to be missed – what better way to see off those January blues!              
Pearl Mysteries
Thursday 12th or Friday 25th
Cleopatra, Maria de Medici and Elizabeth Taylor are amongst a number of important figures associated with famous pearls that will be discussed during this presentation. From love to tragedy, we will see how powerful the pearl has been in history and the legacy they have left.
FEBRUARY
'Ahead of their Game' – The 'Advanced Design' of Archibald Knox and Liberty
Friday 8th or Saturday 16th  SOLD OUT!  WAITING LIST ONLY
We now call 'Advanced Design' Modernism. This was a movement that stemmed from the revivalist principles of William Morris, the Pre Raphaelite brotherhood and the Aesthetic Movement. This presentation will unveil the importance of these influences and how, as a result, Knox and Liberty flourished and changed the nature of design during the Art Nouveau period.
Oscar Heyman – WHO?
 Friday 1st, Saturday 9th or Thursday 14th
Despite being one of the finest jewellers of the C20th, the name of Oscar Heyman is relatively unused. Why is this? It is because the firm wanted it that way. They made jewellery for some of the best jewellery houses of the C20th including Van Cleef and Arpels, Tiffany & Co and Cartier. This talk will unveil the importance of these exceptional jewellers who never took the limelight away from these big name jewellers – until now!
MARCH
Georg Jensen Unveiled
Thursday 7th, Friday 15th or Saturday 23rd
Georg Jensen one of the most famous Danish jewellers of the C20th set up his own workshop in 1904. He produced jewellery with a unique style for over two decades. By the 1920's he was beginning to introduce other designers into his workshop. This lecture will look at these designers including Sigvard Bernadotte, Nanna and Jorgen Ditzel, Astrid Fog, Henning Koppel, and Arno Malinowski, to show how they influenced the new Jensen Style.
French Decadence – The Jewels of Empress Eugenie
Friday 8th, Saturday 16th or Friday 22nd
Empress Eugenie, wife of Napoleon III, had a unique sense of fashion for jewellery during her time as Empress of France between 1853 and 1870. She loved to buy jewellery and also design it herself. With a particular love for diamonds this lecture will be one to impress and it will show why she was also known as the 'Empress of Jewels'.
APRIL
'Creative Innovation' – The Jewellery of John Donald, Andrew Grima and David Thomas
Friday 5th, Thursday 25th or Saturday 27th 
Looking at three of the most important revolutionary designers of the 1960's & 70's, this presentation will illustrate the new creative style of design that was emerging in the jewellery world. These Jewellers bring a fresh approach to not only design, but the way jewellery was marketed, displayed and also worn. 
Jewels of the Greek Royal Family
Saturday 6th, Thursday 18th or Friday 26th 
The Greek royal family is a branch of the House of Glücksburg that reigned in Greece from 1863 to 1924 and again from 1935 to 1973. The family had one of the most impressive collections of royal jewellery. This lecture will follow the collection from Victorian times through to the present day and look at how the jewellery has been distributed over the decades, by marriage, throughout Europe
MAY
Parisienne Chic – The Jewels of Juliette Moutard
Thursday 2nd, Friday 10th or Wednesday 15th
Juliette Moutard created exquisite jewellery in the C20th for one of the top jewellery companies, René Boivin. She was strongly influenced by Suzanne Belperron who had worked at the firm previously. This lecture will showcase the work of one of the top designers who has been described as being "In the shadows" for much of the C20th.
Russian Mysteries – The Jewels of Lady Deterding
Friday 3rd, Thursday 9th or Saturday 18th SOLD OUT!!  (Waiting List only)
Lady Lydia Deterding, born Lydia Pavlovna Kudoyarov, was married to the exceptionally wealthy Sir Henry Deterding, who had a very successful career in the oil industry. Her collection of jewellery is one which was essential for the life she led as part of international high society. This lecture will look at these exceptional jewels which included Russian pieces given to her by Grand Duke Cyril of Russia, who granted Lydia the title 'Princess of the Don' for her help aiding Russian emigrés.