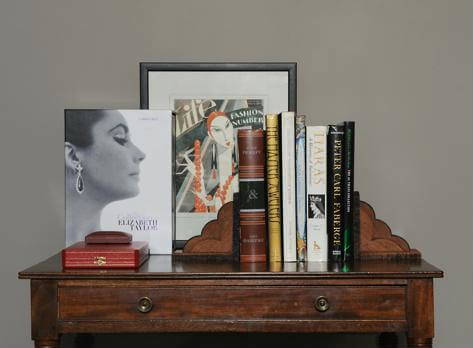 CURRENT GALLERY LECTURES
BOOKING – ESSENTIAL
Contact Maggie Hall at The Gallery on 01423 705 198 or send an enquiry using our contact form
The Gallery Lectures are a fun and relaxing way to share Susan's knowledge on the history of jewellery. The Gallery opens and 10.30am and coffee is served from 10.45 until 11.15 when Susan will present the lecture for an hour and then lunch is served. The Gallery is open for you to see the current jewellery collections and chat with Susan about valuations or the redesigning or repairing of any jewellery you may have or a particular item you may be looking for.
Time 10.45am – 2pm   Price £36/person
including coffee on arrival and a light sandwich lunch with glass of Prosecco or cold soft drink
 The Gallery can be hired for your own private event – ask Susan or Maggie for more details
---
JUNE
Jewellery Revolution – Jewellery History 1960-1970
Thursday 7th, Saturday 16th or Friday 22nd
The 1960's was a time for change. It was a period of Jewellery invention. Traditional jewellers continued to flourish, but this lecture will highlight the changing nature of Jewellery design in the 60's to meet a more expressive and younger clientele. Surrealism, Pop Art & Space all influence Jewellery at this time, to create what was known as 'Art Deco 69' style. Free style creating fun Jewellery sums up this period.
Chaumet – Parisian Elegance
Friday 15th,  Saturday 23rd or Thursday 28th (SOLD OUT!)
Chaumet was founded in 1780 and has provided exceptional jewellery ever since. Although having been established in Paris some of their finest clientele were found in London during the Victorian period, including Queen Victoria. Their work is romantic, stylish and has attracted many famous clients. This is a presentation which shows how the skill of the jewellers working for Chaumet have led to many utterly outstanding creations, bringing elegance and a 'wow factor' to all periods of jewellery design since the C18th.
JULY
Creative Freedom – Jewellery History 1970-1980
Thursday 5th (Full), Friday 13th or Saturday 28th (Full)
Jewellery during the 1970's was an eclectic mix of colourful large stones to meet the Middle Eastern tastes and those pieces showing individuality which have become known as 'Art Jewels'. This lecture will look at the importance of the 'Art Jewellers' and how they reflect the eclectic mix in fashion design through their jewellery and bring in the social and political topics of the time. Goldsmiths' Hall and De Beers promoted these works extensively. Designers such as Andrew Grima, John Donald and Wendy Ramshaw provide a new approach to jewellery design which paves the way for our contemporary designers of today.
Eclectic Scottish Jewellery – from the Highlands to the Glasgow School
Friday 6th, Saturday 14th(Full), or Friday 27th (Full)
Scottish jewellery has risen in popularity over the years. This lecture will look at the outstanding agate jewellery made during the Victorian period and the exceptional work of the jewellers associated with The Glasgow School. From Phoebe Anna Traquair and Margaret Macdonald to Charles Rennie Mackintosh this is a colourful and creative area of jewellery design, showing how the Glasgow School also helped to influence the Secessionist movement in Vienna.
SEPTEMBER
A Modern Twist – The Jewellery Market Since the 1980's
Saturday 8th, Friday 21st or Thursday 27th
The presentation will cover the changing market in jewellery since the 1980's up to the present day. The 1980's was a buoyant time for the jewellery trade – how has this change? How have tastes and lifestyles changed and what effect have synthetic gems and treatments had on the market. How do new designers enter the market and survive? This is will be an exciting presentation, providing an insight into the world of jewellery trading and the challenges that the industry faces.
OCTOBER
High Society – The Jewellery of Trabert & Hoeffer-Mauboussin
Friday 5th, Thursday 11th or Saturday 20th
A presentation which delves into the lives of celebrities such as Claudette Colbert and Marlene Dietrich to showcase the most exquisite jewellery of the collaboration of the American jewellery firm Trabert & Hoeffer with the Parisian house Mauboussin. The firm is often lost in the shadow of Cartier &Van Cleef and Arpels, but their jewellery never disappoints. From semi-customised jewellery referred to as 'Your personality in a jewel' to the dazzling one of creations, this is a presentation which will inspire the designer in all of us!
NOVEMBER
Queen Mary
Saturday 3rd, Thursday 15th or Friday 23rd  SOLD OUT!! Waiting List only
As the nights draw in lets us brighten our days with the delightful collection of jewellery owned by Queen Mary. Enough said – one not to be missed!
JEWELLED COUTURE
This series of lectures provides an exciting opportunity to learn about the relationship between jewellers and fashion designers and to see how fashion and jewellery have been so closely associated. From individual jewellery pieces to the patrons who supported the designers this series of lectures will be a feast of sumptuous design.
SEPTEMBER
Cartier and The House of Worth
Thursday 6th, Saturday 22nd or Friday 28th
From Royals to Actresses, Cartier and Worth have dressed and accessorized some of the finest ladies throughout the world. Both firms started in the nineteenth century and probably never anticipated the huge success that they were to have as individual enterprises. The firms came together through their client lists and due to the vogue for La joaillerie cousue (stitched jewellery) and then by two marriages in 1898 and 1910. The unification of two such successful families provides us with a feast of sparkling gems and breathtaking dresses to admire.
OCTOBER
The House of Chanel
Saturday 6th, Friday 19th or Thursday 25th
By popular demand (and we can never have enough of Chanel!),
we are re visiting the world of Chanel.  
Chanel was a woman who brought a sense of freedom to fashion and jewellery design. She is seen as having invented the look of the twentieth century, taking women out of corsets and putting them into bathing costumes. With Chanel costume jewellery became acceptable not only when worn on its own but also when intertwined with gem jewellery.  This presentation will delve into the character of Chanel so that we can understand how her romantic relationships helped to shape her style both in fashion and jewellery design, creating one of the most successful brands of all time.
NOVEMBER
The House of Dior
Saturday 10th, Friday 16th or Thursday 22nd
Christian Dior founded the House of Dior in 1947 and the 'New Look' was born. His intention was to create a look in fashion that was a radical break from the past and emphasized femininity. To Dior jewellery was not just an accessory but was part of the complete look. His creations were designed to complement the clothes not to take away from them. His look was such a success that he opened a fashion house in 1948 called 'Dior Costume Jewelry' His jewellery is still highly collectable and this presentation will show how he created such a successful company and how it is still sought after today.