This page includes brief descriptions of the Jewellery Discovery Days, Gemstone Discovery Days and NEW for 2020 Jewellery Journeys, held at The Gallery.
Ticket and timing information is at the bottom of the page.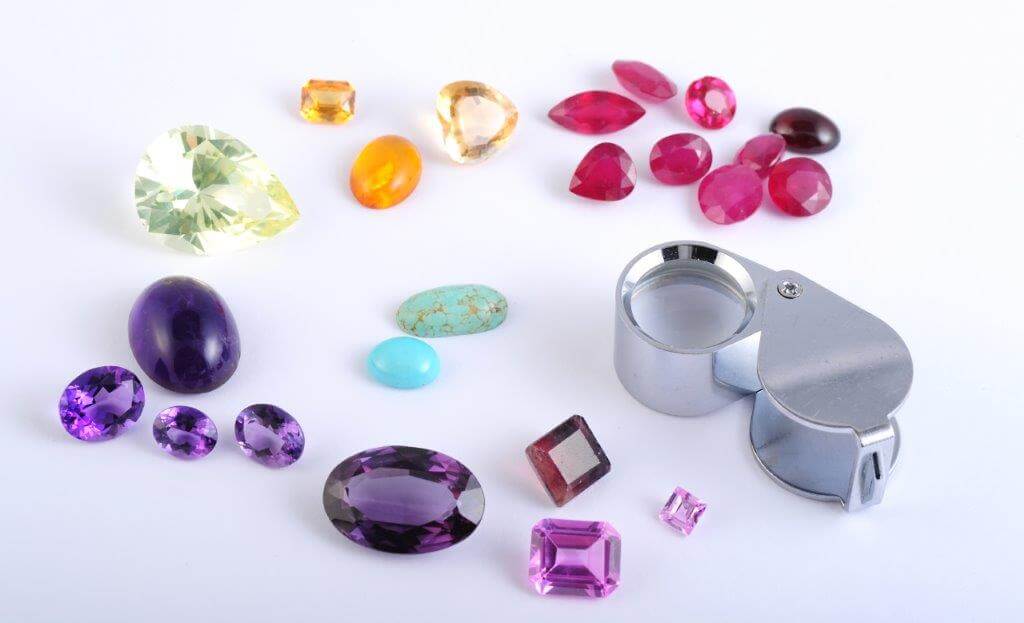 Gemstone Discovery Days are a fascinating insight to the world of gemstones. At each of the days Susan will discuss through both a power point presentation and hands on session, the gemmology behind each of the stones, how fashion dictates price and what you should look for when purchasing coloured stones.
Susan will be joined by her industry colleague, Chris Francis, whom she has worked with for over ten years, sourcing gemstones and designing jewellery for clients. Chris operates out of Hatton Garden and travels extensively acquiring the finest gemstones. Starting out on 'the bench' Chris has over 40 years in the business, working with stone merchants, designers, retailers and advising insurance companies, Chris brings a wealth of experience that he is looking forward to sharing with you on the day.
As well as being a fun and informative day, this is a perfect opportunity for you to bring any jewellery you need repairing, cleaning or perhaps stones which need re-polishing and a chance to discuss with Susan and Chris all your re-design, bespoke design and valuation requirements.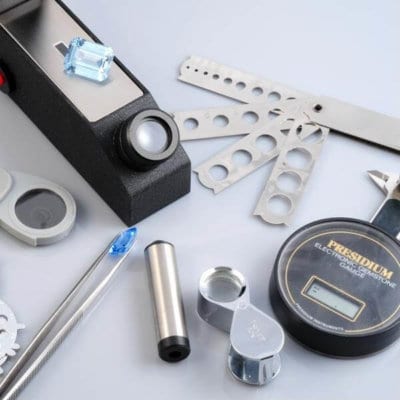 OPALS and TANZANITE
MARCH – Thursday 26th, Friday 27th or Saturday 28th 
Discover the colourful world of Opals and Tanzanite on this handling day. We will discuss the rarity of Tanzanite and whether we should be worried that the stone will become unobtainable as so many reports say. Opals are a mysterious stone. They are often associated with bad luck – why? Is it a myth or is it due to the composition of the stone? From the fascinating Fire Opal which is orange to the variety of intensities of blue, green and yellow found in the stones, this handling session will provide a perfect opportunity to enjoy this mysterious gemstone.
 NOTE:  These Gemstone Discovery Lectures have a slightly later start time of 11am with the presentation commencing at 11.30am.
JEWELLERY DISCOVERY LECTURES
Danish Delights – Royal Danish Jewellery
JANUARY – Thursday 16th or Friday 31st   SOLD OUT!
Princess Maud, Edward VII's youngest surviving child, became Queen of Norway by marriage. This presentation will delve into the history of Danish Royal Jewellery and how Maud and future Queens benefited from the Crown Jewels a collection begun by Queen Sophie Magdalene in 1746 and cemented in name by Queen Lovisa. A stunning collection to be admired.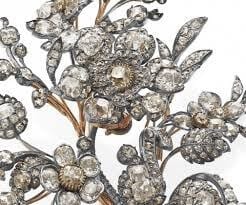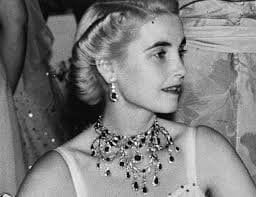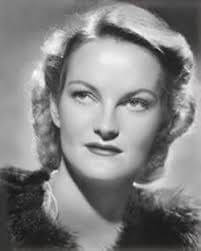 Friends or Enemies –
The Jewellery Collections of Barbara Hutton and Doris Duke
FEBRUARY – Friday 7th, Saturday 8th or Thursday 13th
During this talk we will look at two women with inherited fortunes who adored jewellery. Barbara Hutton, had inherited the Woolworth fortune. Although marrying seven times she died with little money in her estate but there was an amazing collection of jewellery. From the 'Pasha' Diamond to spectacular historic pieces there was a superb variety. Doris Duke in contrast was divorced twice but also had a very colourful private life. Her inheritance came from tobacco and her jewellery was exceptional including pieces she had a hand in designing. This presentation will show how two women, whose rivalry was fuelled by the press amassed great jewellery collections.
Sparkling Society – Margaret Greville and The Marlborough Set
MARCH – Thursday 5th, Friday 14th or Friday 20th  SOLD OUT! Waiting List Only
The jewellery and life of Dame Margaret Greville of Polesden Lacey have been of fascination for years as she was a favourite of the Royals and the Marlborough Set. Queen Elizabeth the Queen Mother was left several pieces from her collection. Margaret Greville held parties that were renowned for their extravagance. This presentation will look at her collection and the jewellery worn by those who partied with her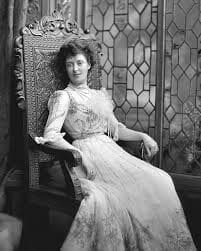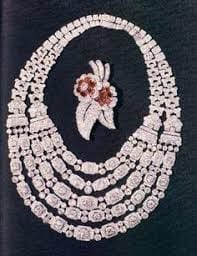 NEW for 2020 – JEWELLERY JOURNEYS
This new series of talks will look at museum collections and current exhibitions across the world. We will look at the collections/exhibitions either as an overall review, or in context with an historical theme. We hope you enjoy these Jewellery Journeys at The Gallery.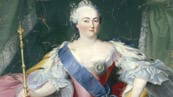 JANUARY
Friday 10th, Saturday 11th or Thursday 30th
Historical Magnificence at The Hermitage     
This presentation will focus on the splendour of Russian Court. Looking at the fashion from the Imperial Court on display at the State Hermitage Museum and the jewellery and works of art on display at the temporary exhibition at the Hermitage in Amsterdam. The exhibition runs until the end of March 2020. Glamour, ceremony and superb jewels come together to bring extra brightness to the New Year.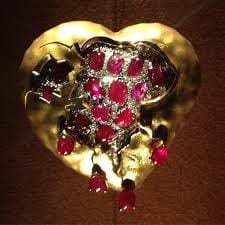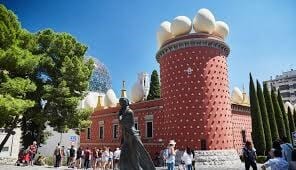 FEBRUARY
Thursday 6th or Friday 14th
Spanish Surrealism – the Collection of Salvador Dali at Figueres
The jewellery at the Salvador Dali museum in Figueres is stunning. This presentation will delve into the mind of Dali and uncover what influenced him when he came to design these extraordinary creations. We will look at the team who created the jewellery under the watchful eye of Carlos Alemany, the Argentinean-born silversmith and discover the extraordinary journey that these jewels have been on before they became the property of the Gala-Salvador Dali Foundation.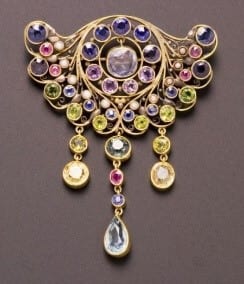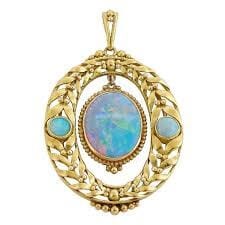 MARCH
Friday 13th or Thursday 19th
Beautiful Craftsmanship in Boston – The rise of Arts and Crafts Jewellery in Boston
The collection of jewellery at the Museum of Fine Arts, Boston is exquisite. The Society of Arts and Crafts, Boston, was founded in 1897 to encourage ''mutually helpful relations'' among craftsmen, designers and patrons. Until recently little had been written about the fabulous Arts and Crafts Jewellery that came out of Boston. Frank Gardner Hale and his circle of designers provide a fantastic insight into the Arts and Crafts period in America and how successful the movement was overseas.
Lectures are individually priced at £38* and include coffee on arrival
and a light sandwich lunch with a complimentary glass of fizz.
We can accommodate specific dietary requirements with at least 72 hours' notice.
On lecture days the doors to The Gallery open at 10.30am.
Coffee will be served from 10.45 Please note the lecture will start at 11.15
and we request you are in The Gallery by 11.10 to ensure a prompt start.
LATE COMERS – FOR THE PLEASURE AND COMFORT OF ALL COURSE ATTENDEES:
Once the lecture has commenced a sign will be placed on the Gallery entrance door and
we will be unable to allow admission until 12.15 when lunch is served.
* Terms & Conditions: Tickets are non-transferable. Refunds can only be made in exceptional circumstances or when we can fill a place due to a waiting list. Unfortunately, we are not in control of the weather and unless we cancel a lecture due to inclement weather, we are unable to make a refund.
Please follow and like us: