A brooch is a very particular piece of jewellery as it signifies the very height of sophistication. Brooches give the owner the licence to have fun as they come in such a wide variety of styles and shapes. They can also be beautiful, and the sky is the limit when it comes to settings, stones and value.
How to wear a Brooch?
Tatler published a brilliant article giving a fascinating insight in to the "Brooch Rules" so if you are new to brooches or just need some tips this will give you all the information you need to carry off your next brooch in style.
Brooches or pins if you like, are very popular with royalty, glamorous film stars and those in the know. From the Duchess of Cornwall to Hollywood A-Listers such as Cameron Diaz and Uma Thurman, even political leaders like Nancy Pelosi see the brooch as the fashion must have in their jewellery collection.
So, to answer the question… Fashion may come and go but every woman should have a brooch in their collection.
Here's an example of one of the Brooches available in our Gallery: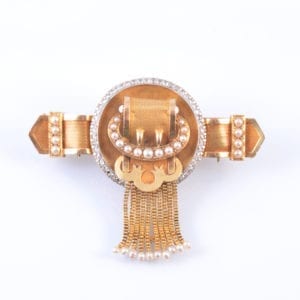 Victorian Gold, Diamond and Half Pearl Brooch, circa 1860 – £2,600
The central gold buckle with half pearl detail and ten gold tassles each with a seed pearl, is set above a circular mount with a rose-cut diamond border with undulating textured arms with half pearl highlights. Simple hoop to the reverse and later brooch pin plaque fitting.
6.5cm long / 5cm High. Total weight 25.2gms / Total weight of diamonds approximately 0.25 carats
If would like us to find a particular style of brooch please contact us now….